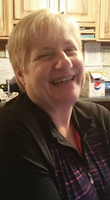 Debra J. Gross
Debra Jean Gross, 63, of Gilbertsville, NY, went to be with the Lord on Saturday, November 22, 2019, with her family at her side. She was born on May 26, 1956 in Oneonta, NY to parents Dorothy and Frederick Wilber.
Debbie grew up in Wells Bridge, graduating from Unatego in 1974.
She married her beloved husband Thomas Norman Gross on July 29, 1978; they enjoyed 34 years of marriage until his death in 2012.
Debbie or Deb, as she was known to her friends and the community, had a spirit and joy you couldn't help but love from the moment you met her. Whether it had been yesterday or a few months ago, she was always so happy to see you and would meet you with her captivating smile and a big, amazing hug.
She lived with a purpose greater than she could imagine. Her love, generosity and nurturing spirit reached beyond her community and the hundreds of foster children who found a home with her and her late husband Tom. Over the years, their home was always open to a child in need. She would say, "I'm not fostering anymore", but we all knew that wasn't the case- as she never stopped opening her home and her heart.
A faithful member of the Eagle Fire Engine and Hose Company in Gilbertsville, NY since August 1, 1978, Debbie served in many capacities including squad Auxiliary and most notably as a dedicated squad captain. Intertwined with her role on the squad, Debbie also worked with the Explorers, a group of high school students who were interested in EMT and Fire Department service roles. In this teaching role, Debbie passed down much of her wisdom and spent time demonstrating and teaching how to respond in emergency situations.
Debbie was also an active member of the Gilbertsville Baptist Church and volunteered at many events in the greater Gilbertsville community. Engaging with her friends, neighbors, and community members, she would help with planning, decorating, or cooking for a number of events. Her presence will be greatly missed by her church family and the community.
Debbie was predeceased by her parents Dorothy and Frederick Wilber, brothers Douglas and James Wilber, husband Thomas Gross, and children Rebecca and Christopher Gross.
She is survived by her children: Leigh Gilbert (Phil); SueEllen, Courtney, Katie, Hannah, Dustin, Mya, Natalie, Emily, Connor, Luke and Jordan Gross; and former foster children Lisa Downey, Kayla Armstrong and Tatianna Chase. There are also many of her children's friends and children in the community who have benefitted from her generosity and her loving home; spending time around her kitchen table talking about anything and everything. Debbie was in many ways the matriarch of Gilbertsville with many people calling her 'Mom' over the years.
She is also survived by many grandchildren whom Debbie loved dearly and always wanted to spend time with. She will be dearly missed by all of her extended family who know a family gathering will never be the same without her playful spirit.
Debbie also leaves behind her fiance, Joel Dart, whom she planned to marry in 2020.
Her friends are numerous and she enjoyed long-lasting friendships with so many. With her friends, she loved traveling to places like Myrtle Beach, Florida, and even most recently a cruise. If she wasn't traveling or caring for those in her life, Deb loved to play cards.
A sincere thank you goes out to those from the Eagle Fire Engine and Hose EMS Squad, Debbie's co-workers who responded in her time of need and provided her with the best care possible until she arrived at the hospital. The family is forever grateful.
It is not surprising that Debbie was an organ donor and even in the most difficult time for her family, they found comfort in knowing she was able to continue to help others through this gift of life. In memory of Debbie we ask you to find a way to give in your life. Selfless gifts were her legacy, and we hope this legacy can continue through others. It is not enough to just live, we must love, we must give, and we must forgive.
Fellowship with the family will be held with calling hours on December 3, 2019 from 4:00-7:00pm at C.H. Landers Funeral Chapel, 21 Main St. Sidney, NY.
On December 4th at 11:00am, a funeral will be held at the Gilbertsville Baptist Church. In lieu of flowers, memorial donations in Deb's memory may be directed to the Gilbertsville Emergency Squad, or to Athela's Therapeutic Riding Stables. Share condolences and memories with the family online at www.landersfh.com.
Arrangements are under the direction of C.H. Landers Funeral Chapel, Sidney.