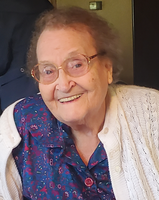 Ina May Meres
Ina May Meres
Bainbridge, NY
Ina May Meres, 90, of Bainbridge, passed away peacefully Thursday, November 21, 2019 at her home surrounded by her family.
She was born May 11, 1929, daughter of the late William and Ruth Reynolds of Sidney Center. Ina helped work on the family farm in Bainbridge until 1966 when she started at Keith Clark in Sidney, retiring in 1991.
She married the late Alvin A. Meres, Sr. on July 5, 1947 in the Sidney Center Methodist Church.
Ina is survived by: 3 daughters: Catherine Darlin of Avon, FL, Jennie Noyes of Guilford, NY, and Peggy Ann Meres of Deansboro, NY; 3 sons: William Meres of Bainbridge, Jerry Meres of Norwich, and Alvin A. Meres, Jr. of Bainbridge. She is also survived by her sister, Janet Crawford of Spokane, WA; brother, Gary Reynolds of Afton; 12 grandchildren, 24 great-grandchildren and 9 great-great grandchildren, and several nieces and nephews.
In addition to her husband, she was predeceased by her daughters, Susan Meres and Connie Hemphill; great grandson, Geofrey Powell; great granddaughter, Baby Girl Smith; 2 brothers, Leland and Harold Reynolds; and 2 sisters, Louise Lee and Joanna Hall.
Friends may call from 4:00-7:00pm on Sunday, November 24, 2019 at C.H. Landers Funeral Chapel, 21 Main St. Sidney. Funeral services will be held at 11:00am on Monday, November 25, 2019 at the funeral chapel with the Rev. Benjamin Shaw officiating. Burial will follow in Ouleout Valley Cemetery, Franklin.
Memories and condolences may be shared online at www.landersfh.com.
Arrangements are under the direction of C.H. Landers Funeral Chapel, Sidney.