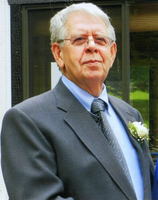 Warren W. Robbins
Warren Robbins Jr
Bainbridge, NY
Warren Robbins Jr., 79, passed away Friday November 15th, 2019 after battling a long illness. He was born May 30, 1940 and grew up in Greene, NY. After graduation from Greene School, he went on to Broome Community college and graduated in 1959. Upon graduation from BCC, Warren started work at Bendix (now Amphenol Aerospace) in 1959 and worked as Technical Supervisor. He retired after 46 years in 2005.
In 1973, Warren was elected to the Bainbridge Town Board as Democratic Town councilman and served several years on the Board. Upon his retirement from Amphenol Aerospace, he enjoyed spending time with his grandchildren and enjoyed watching John Wayne movies.
He loved his wife, children and grandchildren dearly. Warren is survived by his children: Michele and son-in-law Kevin Barr; Jacqueline and son-in-law David Byrnes. Michael and daughter-in-law Cindy Robbins. He is also survived by his grandchildren: Erin (Paul) Barr-Henley; Nicole (Kadison) Byrnes-Shaver; Jack, MacKenzie, Addison and Delaney Robbins.
Warren was predeceased by his wife Margaret (Delello) Robbins; parents Warren and Anna Robbins; And sister Sharon Clark.
Graveside services will be held at Greenlawn Cemetery in Bainbridge NY on Saturday November 23, 2019 at 11:00 am.