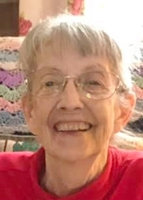 Patricia Ann DeForest
Patricia Ann DeForest
Patricia Ann DeForest, 76, of Sidney, N.Y. went to be with the Lord on November 18, 2019.
Pat was born in Conamore Nursing Home, Bainbridge, N.Y. to Everett and Rosella Brown on May 4, 1943. She was one of six siblings in a proud farming family. She attended Sidney Central School. Her first job was working in the school office and she later worked at Head Start in Sidney. Her most challenging career was raising her three sons, which did not cease until she left this earth.
Pat enjoyed bird-watching, gardening, walks in Keith Clark Park, summer concerts in Unadilla, socializing at senior meals, doing puzzles, and reading her Bible. A devout follower of Jesus Christ, she attended Bible study and church services faithfully at the Church of Christ on Cartwright Avenue in Sidney, a loving congregation of caring people and wonderful friends. Her faith family cared for her so much that in order to keep her comfortable during services, the congregation installed a recliner at the back of the church just for her, including a note taped to the top reminding people that it was Pat's chair.
Pat never had an unkind word to say about anyone. She was truly a joyful human being and was always laughing or smiling. She loved her family deeply and covered every wall of her home with family photos.
Pat is survived by her three sons, Edward (Ann Marie) of Otego, Dan of Sidney, and Andy of Sidney, grandsons Stephen and Christopher (Stephanie), and great-grandson Evan. She also leaves many nieces, nephews and extended family and friends. She was preceded in death by her husband Laverne E. DeForest, father Everett Brown, mother Rosella Brown, Step-father, Frank Jump and Sister Ruth Tomeo.
A celebration of Pat's life will be held at the Church of Christ, 22 Cartwright Ave, Sidney on Saturday, November 23, 2019 at 2pm.
Burial in Evergreen Hill Cemetery in Unadilla will be private and at the convenience of the family.
Condolences and memories may be shared online at www.landersfh.com
Arrangements are under the direction of C.H. Landers Funeral Chapel 21 Main St. Sidney.