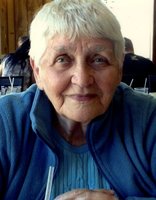 Joan C. McLaud
Joan Valerie Crandall McLaud
Unadilla- Joan C. McLaud translated from this world to the next in her home on November 6, 2019 with her devoted daughters Mary McLaud and Susan Van Cott by her side. Joan was born on December 19, 1929 in Oneonta, NY at the beginning of the great depression. Joan was the daughter of Stewart Crandall and Grace Matteson Crandall of Laurens, NY. Her father was a musician and jazz pianist who filled her life with music. She loved playing the piano, organ and sang with a voice like Ella Fitzgerald and could scat with the best.
Joan was married to Douglas M. McLaud and together they raised five children in their homes on Garden Street and State Street in Oneonta and their farm on the Otsdawa in Otego, NY. Joan loved animals and over the years took in and cared for 49 stray cats and other animals. Joan was an avid organic gardener who grew and canned a myriad of fruits and vegetables for her family and friends for over 60 years. Her homemade spaghetti sauce and tomato juice were loved by all.
Joan was an extremely dedicated and hard worker. Over the years she held many jobs and positions. Among them: Lifeguard and Swim instructor at the Broadstreet Oneonta YMCA; Bookkeeper for Hoffman Drycleaners; Bookkeeper for the Town of West Oneonta; Accounting Assistant for Eckankar in Menlo Park, California & Chanhassen, Minnesota. Joan and Douglas founded the Douglas M. McLaud Insurance Agency in Otego, N.Y. and for years worked tirelessly to make it the success it became.
At the age of 49, Joan got her private pilot's license and bought a 1953 Cesna 172. She loved being up in the sky. She lived in N.Y., California, Florida, Minnesota and Wyoming and traveled the world. Joan bought one of the early IBM computers and learned COBOL, BASIC & MS-DOS programing languages. Joan was a student of the weather and never tired of watching and learning from the Weather Channel. Joan was a lifelong proponent of naturopathic medicine, herbology and complimentary treatments such as acupuncture, reflexology and chiropractic treatments as an adjunct to traditional medical treatments.
Joan was a 52 year member of Eckankar, a nondenominational spiritual organization devoted to the belief in the Light & Sound of God and that LOVE is all that ultimately matters. She worked every day to be of service to others and take responsibility for herself and her actions.
Joan was predeceased by her beloved daughter, Katheen McLaud Spisak Ernest; her beloved granddaughter, Ginny Kathleen Dolezel and her beloved brother, David James Crandall.
Joan leaves behind her beloved children: son, Douglas McLaud & Pauline McLaud of Spring Hill, FL.; her daughter, Leslie Blum of Hot Springs, SD.; her daughter, Susan Van Cott & Craig Van Cott of Unadilla, NY; her daughter, Mary McLaud of South West Harbor, ME; her beloved grandchildren: Daniel Dolezel, Amy Callahan, Lori Bedard, Stephanie Horlock, Suzi Spisak-Moutinho, Zoe Vandermeulen, Leif Van Cott, Alex Van Cott, Ian Van Cott & Gillian Morrison; her beloved great grandchildren: Charlie, Sam, Rachel, Jake, Noah, Skyler, Jacob, Jade, Daniel, Logan, Korey, Kasey, Gabriella, Fiona, Jake, Xander and Gwyneth; and her great great granddaughter, Zoey.
Special thanks to our mother's dear friends Vivian Young, Joyce Prince, Phyllis Sutherlin and Barbara Lord for all of their help and support over the years. Special thanks to our mother's medical caregivers: Dr. Jerry Falco, Dr. Rosita Aquino, Dr. Nathan Goldman & staff at UHS Radiation Oncology (with the best waiting room ever), Dr. Madhuri Yalamanchili at Broome Oncology and most heartily to Dr. Nick Liu & staff at Upstate Urology of UHS. Dr Liu embodies ALL that a doctor should be; excellent surgical skills & medical care and compassionate care that goes above and beyond. I will forever be grateful for ALL you did for my mother and the support you gave me in caring for her.
A celebration of her life will be held on December 14, 2019 at the C.H. Landers Funeral Chapel, 21 Main St. Sidney, NY. Calling Hours will be from 10 am to 12noon with a service beginning at noon. All are welcome to come and share food and friendship at a luncheon at the Unadilla Neighborhood Apartments 71 Clifton Street Unadilla, NY at 1 pm. Join us in celebrating the passing of a good and kind soul. In lieu of flowers, please consider a donation to the Unadilla Food Pantry, PO Box 58 Unadilla, NY 13849 or the Unadilla Emergency Squad.

Share condolences and memories with the family online at www.landersfh.com.
Arrangements are under the direction of C.H. Landers Funeral Chapel, Sidney.