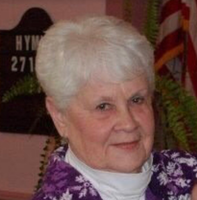 Marjorie W. Dean
Marjorie Wickes Dean, 86 of Sidney, formerly of Masonville passed away on October 26, 2019.
She was born June 23, 1933, daughter of the late Wilton and Margaret (Wickes) Wickes in Cohoes, NY.
Marge graduated from Sidney High School with the Class of 1951. She married Ernest R. Dean on September 27, 1953 in Masonville. He predeceased her on September 4, 1995.
Marjorie enjoyed family gatherings, cooking, baking, camping, and trips to Myrtle Beach, tending to her flower beds, attending her grandchildren activities and serving her church.
She was a member of the Masonville Federated Church, a Cub Scout den mother and a 4-H member.
Marge is survived by her children – Jeffrey and Priscilla Dean, Ellen and Kenneth Howard, Gregory and Beth Dean
Grandchildren – Benjamin, Erica and Dean
As well as being Grandma Dean to many children through the years.
Sisters – Janet and Donald RePaal and Claudia Bowen
Sisters-in-law – Sharon Wickes, Alice Sloan and Louise Dean
Brother-in-law – Arthur DuMond
Many nieces, nephews and cousins
She was also predeceased by Brothers, Wilton (Bill), Frank and Paul and Sisters Jane, Margaret and Barbara.
Friends may call Tuesday, October 29, 2019 from 6-8 PM at CH Landers Funeral Chapel 21 Main St. Sidney, NY 13838
Funeral services will be held Wednesday, October 30, at 11:00 am at CH. Landers Funeral Chapel with Rev. Benjamin Shaw officiating.
Burial will follow in Masonville Cemetery
Memorial contributions may be made to the Masonville Federated Church PO Box 279 Masonville, NY 13804
Condolences and memories may be shared online at www.landersfh.com
Arrangements are under the direction of C.H. Landers Funeral Chapel, Sidney, NY