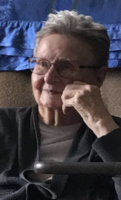 Alice Elizabeth Miller
Alice E. Miller 88 of Bainbridge, NY passed away Wednesday, October 16, 2019 surrounded by family and caregivers.
Alice was born September 6, 1931 in Long Island to the late BF and Mary (Stasik) Orlowski. She was raised in Stamford/Jefferson, NY
On November 19, 1949 she married John P. Miller, who was her first and only love. John predeceased her on August 12, 2016.
Alice enjoyed bowling on the Bainbridge Woman's league, having a large garden, raising 6 kids, mowing lawn and helping John in the Bainbridge Park setting up on Saturdays for his antique tool business.
She will be lovingly missed by her children:
Ronald (Terry) Miller, Mary Miller, Bill (Shari) Miller, Richard (Nanci) Miller, David (Kathy) Miller, Jeffrey Miller (Courtney Grow).
Grandchildren – Alan, Jessica, Melissa, Victoria, Abbi and Alli.
Step grandchildren – Erik (Allison), Justin (Ariel)
Great grandchildren – Tamara and Madisyn
Step-great grandchildren – Evan and Collin
Brother- Alexander (Mary) Orlowski
Nieces and nephews
Special nephew, Hank Singer who still called and visited her
Sisters-in-law – Margie Hait and Joan Miller
Caregivers: daughters-in-law, Kathy and Courtney, great granddaughter, Tamara
Special friends, Lisa, Danica, Nina Jo, Natasha, Billie and Brooke will hold a special place in their hearts for Mama Bear and her many years of entertainment.
Alice was also predeceased by Brother, Fred and sisters, Florence and Rose.
A private graveside service will be held at the family's convenience in Greenlawn Cemetery in Bainbridge.
Friends and family are welcome to gather Friday, October 25, 2019 from 3-7 PM at Alice's home
In lieu of flowers memorial contributions may be made to Chenango County Hospice and Palliative Care.
Condolences and memories may be shared online at www.landersfh.com
Arrangements are under the direction of C.H. Landers Funeral Chapel Sidney.