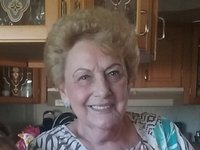 Nancy D. Terebo
Nancy D. Terebo, 80 of Oneonta passed away Sunday, October 13, 2019 at AO Fox Nursing Facility in Oneonta.
She was born June 22, 1939, daughter of the late Michael and Wilhelmienia (Wiedman) Terebo in Roxbury, NY.
Nancy attended the Community Gospel Church in Oneonta.
She is survived by:
Daughter, Patricia (David) Morenus, Sidney Center
Daughter, Penny (Phile) Carolla
Son, Bill Walters
Son, Mike (Kelly) Walters
Brothers – Michael Terebo and Ron Terebo
Sisters – Janice Schrull, Sandra Mullineux and Micheline (Nelson) Wilcox
Grandchildren, Courtney, Michelle, Chad, Willy and Brandon and Great Grandchildren, Caylee and Alex
Nieces, nephews and cousins
She was also predeceased by Brother, Timothy
Graveside services will be held Friday, October 25, 2019 at 2:00 PM in Prospect Hill Cemetery in Sidney. Pastor Don Yarborough of the Community Gospel Church in Oneonta will officiate.
Condolences and memories may be shared online at www.landersfh.com
Arrangements are under the direction of CH. Landers Funeral Chapel 21 Main St. Sidney.