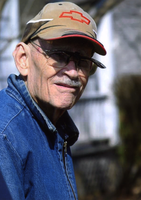 James W. Dicks
James W. Dicks, 93, of Bainbridge passed away Friday, October 11, 2019 at Valley View Manor, Norwich, NY.
He was born January 19, 1926, son of the late Kermit and Marjorie (Purvis) Dicks. James married Elizabeth Hohreiter on July 29, 1949. They divorced in 1979. Jim later married Wanda (Boehl) on August 3, 1980. James lost the love of his life on April 12, 2013.
In 1955 James bought his Father's farm called the Meadowbrook Sheep Farm. Jim also held jobs at Unalam and Borden's. In 1983, he retired to the farm
James is survived by his children: Debra (James) Cummings; Timothy (Kathy) Dicks; Daniel (Janet) Dicks; and Theodore (Donna) Dicks. Also surviving are ten grandchildren, eleven great-grandchildren, nieces and nephews. As well as stepchildren: Kathy (Bob) Devore; Larry (Barb) Boehl; Pricilla and Karen Boehl; step grandchildren and step great-grandchildren.
He was also predeceased by an infant son; stepsons, Carl and Dale Boehl; and his best friend, Shorty (dog).
James enjoyed his farming, woodworking, cutting wood, working side by side with Wanda and picnics. He adored his children, grandchildren and great-grandchildren.
Friends may call Saturday, October 19, from 11:00 am to 12:00 Noon at C.H. Landers Funeral Chapel 21 Main St. Sidney. Funeral services will begin at 12:00 Noon with Rev. Patty Wolff of the First Presbyterian Church of Bainbridge officiating. Burial will follow at Greenlawn Cemetery, Bainbridge, NY.
In lieu of flowers, memorial gifts may be made in his name to the Chenango County SPCA, Norwich, NY.
Share condolences and memories with the family online at www.landersfh.com
Arrangements are under the direction of C.H. Landers Funeral Chapel, Sidney.