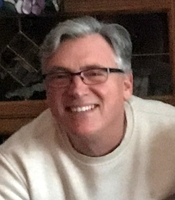 Wayne Robert King
Wayne Robert King
Unadilla—Wayne Robert King, 62, passed away unexpectedly on October 9, 2019 at A.O. Fox Tri-Town Campus in Sidney.
He was born on March 27, 1957 in Queens, NY, son of the late Robert J. and Betty Joan King. He attended Brentwood High School in Long Island, Nassau Community College, SUNY Oneonta and later Columbia Broadcasting School in Denver, CO.
For many years, Wayne Robert was a local radio personality, working for WCDO and WHWK (The Hawk), along with his own business, King Productions and DJ Services. Most recently, he owned and operated the Country Motel in Unadilla.
He had a sharp wit and a terrific sense of humor. A voracious reader and a lover of music, he had a deep appreciation of acquiring knowledge. In his earlier years, he loved to backpack and travel, with one of his favorite trips being to Alaska. He also enjoyed golfing, ski trips with family, gardening and was a former youth soccer coach for several years. A truly compassionate soul, he spent much of his life trying to help others.
He is survived by: his sons, Brendon King (Janet Bissett), Jordan King and Shane Tarr; his beloved grandsons, Maddex King and Zirus Bissett; his sister and brother-in-law, Andrea and Russell McIntyre; and his nephew, Taylor and Ashley Baker and their son, Harrison. A special thank you to his loyal friends/employees, Lee Orelowitz, Jerry Winans and Kristal Thorne.
Friends may call from 12:00-2:00pm on Monday, October 14, 2019 at C.H. Landers Funeral Chapel, 21 Main St. Sidney, NY 13838. Funeral services will begin at 2:00pm at the funeral chapel. In lieu of flowers memorial donations in his memory may be directed to the Delaware Valley Humane Society, 101 E. Main St. Sidney, NY 13838. Share condolences online at www.landersfh.com.
Arrangements are under the direction of C.H. Landers Funeral Chapel, Sidney.