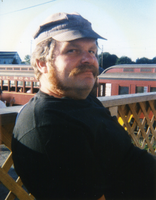 Robert D. Holt
Robert D. (Bob) Holt 1952-2019
Bob stepped aboard the train in the sky for his final journey on May 28, 2019 following his unexpected passing.
Bob was born in Camden, NJ to Robert and Ethel Holt. He graduated from Lenape High School and Rutgers University.
Before moving to Sidney, he worked for the railroad in Pennsylvania. Not long after arriving in Sidney, he began to work for Sidney Central Schools. During that time he became the superintendant of buildings and grounds. After retiring 25 years later, he went on to serve a term on the Sidney Central School Board.
Bob loved his family, friends, trains, tractors and life. He made friends easily and always was willing to help in any situation. Bob loved to be outdoors and you could often find him in the barn or fields. He was a generous, hardworking, kind man with a big heart; he enjoyed the simple things in life. His greatest joys were spending time with his wife Pam, his family, and friends and talking about trains.
Bob will be greatly missed by his wife Pamela, Son, John Sinclair; daughter, Heather Sinclair (Roy Saunders), Mother, Ethel Holt, Brother, Kurt (Lee) Holt, Sister, Nancy King; nephew Justin King, Niece, Beth Anne (Edwin) Medina.
He is also survived by his father-in-law, Fred Ankney; brother-in-law, Mike Ankney; Sister-in-laws, Sally (Rick) Van Ess; Theresa Ankney; and several nieces and nephews.
Bob was predeceased by his father, Robert Holt, Sr.; Mother-in-law, Helen Ankney and Sister-in-law, Marlene Ankney.
A celebration of life will be held on Saturday, September 7th from 1:00-3:000pm at the Maywood Historical Train Depot in Sidney Center.