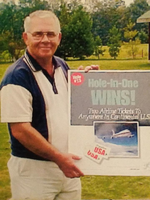 Edwin Lamb
Tribute to Edwin Robert Lamb
August 20, 1941 – March 12, 2019
Edwin was known by many names: Ed, Eddie, Earl, Lambchop, Lamby, Moose, Dad, Brother, Mr. Lamb, Uncle Ed, Pop-Pop, and, as the young Gregory girls from the bowling alley fondly referred to him, Ed Big Head. Whether a relative or a friend, I am certain you have memories of Ed telling stories like no other. His mannerisms and facial expressions added interest and intrigue that kept us engaged throughout - with the anticipation of his ending. In fact, he was often called upon to emcee a ceremony, deliver a speech, or roast a friend.
It's easy to remember Ed's laughter as it flowed often and easily from him. He chuckled every time he yelled across Sherman Avenue to his neighbor and friend Doug Fessenden. The pair would holler loudly a caveman-like groan greeting when both were outside. Although it sounded a bit absurd to those in earshot, Ed's chuckle was contagious and we were soon following suit. He giggled whenever something struck him funny and didn't particularly want to admit it. This giggle sounded a bit like Scooby Doo that very few can imitate, although his family often tries. There were many moments, too, when he was caught off guard and a larger-than-life bellow of a laugh would carry the room. He always found laughter and joy in the things he did.
Most of you are likely to remember many of them:
Many of you know Ed from teaching, coaching, Amphenol, golf, bowling, hunting, fishing, or poker; you may be one of the lucky ones who knew him from them all. His daughters would have to urge him to leave a public setting long before the departure time as so many others would stop Ed on the way out the door to say hello or more. They couldn't take Ed anywhere without him running into people who knew him. It didn't matter if they were at an event, about town, or at the rest stop on the PA turnpike where Ed ran into Murray Logan.
You probably know Ed spent time as a physical education teacher and coach. At the age of 22, in 1963, he was hired by Brant Lake Central School as the Athletic Director/K-12 Phys. Ed. Teacher, Varsity Basketball Coach, Varsity Baseball Coach, and the Girls' Softball Coach. In 1965, he worked for the Harpursville Central School in similar roles. He was Athletic Director/Boys 7-12 Phys. Ed. Teacher, Varsity Football Coach, Varsity Wrestling Coach, Junior Varsity Wrestling Coach, and Baseball Coach. Starting in 1968, he spent four years with the Sidney Central School as the K-6 Mixed Phys. Ed. Teacher, Varsity Football Coach, Varsity Track Coach, and Junior High Wrestling Coach.
Most of you may also know that he began work at Bendix (formerly known as the Scintilla Magneto Corporation and currently known as Amphenol) on August 21, 1979, one day after his 38th birthday, where he spent the next 25 years as a supervisor to Departments 48 and 49. It is here where he grew his roots and became very involved in the Sidney community. Ed was a long-time member of the Sidney Elks Lodge #2175, a member of the Unadilla Rod and Gun Club, a member to both the Sundown Golf Course and the Sidney Country Club, as well as an avid bowler playing on leagues at the 20th Century Lanes (currently known as East Main Lanes.) In addition, he served many years as a fireman with the MacDonald Hose Company of the Sidney Fire Department.
He earned many accolades from golf and bowling over the years. Though too many to list, I can share that his girls are often reminded by Ed's friends and colleagues of times when Ed made "the best golf shot they have even seen," or how if it wasn't for Ed the team would not have placed in a tournament, or, most often, they share the time Ed made a hole-in-one during the Men's Member-Guest Tournament at the Sundown Golf Course winning free airline tickets. They would say, "It couldn't have happened to a better guy." The numerous plaques he saved over the years were most often labeled "Sportsmanship Award."
I would gather by now that just about every person reading this knows that Ed played poker. He began playing poker with a group of fellas, I believe in 1961, every Friday night. The starting six or seven signed their names to the basement wall and recorded the date. Over the years, the first time a new player came to play, they added their name and date to the list. We were able to see this wall section a few years back and it was adorned with many names. It was fascinating to see the historical record of comradeship of players over the decades. Ed was happy to take the winning pot from any and all who attendedJ. For many of the early years he would admit, with a sheepish grin, that he won more than he lost, but I am not certain if that was the norm for the duration of the 50+ years. For the years that Friday Night Poker was held at his home on Sherman Avenue, he would make a large spread of food. His daughters and their families, along with other close friends, would come for dinner and conversation until the poker buddies started to arrive for the game. Dessert usually consisted of two rectangle cakes with pudding between them, placed in a large Tupperware container, topped with whipped cream. Those of us lucky enough to have attended Friday Night Dinners at Ed's remember that he always served the cake with a large spoon, giving each a piece-sized "scoop" of cake adorned with ice cream.
Here are a few things you might not know about Ed:
Did you know his favorite holiday was Halloween? His house was the "must stop" for so many in town. With camera always in hand, he accumulated more Halloween pictures than any other subject. He loved to be visited during trick 'n treating where he would grab one, usually two, handful(s) of mini-sized candy bars, out of his over-sized stainless steel mixing bowl, to drop into each child's bag. He was even known to wear a costume from time-to-time.
Did you know he won a Black Jack Tournament at the Turning Stone Resort and Casino?
Did you know he played trombone in middle school and high school?
Did you know he played Fred Gregory in "Meet Me in St. Louis" in the 1959 Senior Play?
Did you know he was crowned King at the Whitney Point HS Hawaiian Enchantment dance? At age 14, when crowned Snow King at the Port Dickenson Jr. High dance, I wonder if he knew then, that the Snow Queen seated next to him would become his bride. Although Judy Gilchrist and Ed attended separate high schools and colleges, love endured, resulting in marriage and four daughters. In the later years when others would comment to him about not having any boys, he would say, with a grin, "Having children is much like poker; you keep the cards you are dealt and don't expect any of them to change suit."
Did you know he worked as a Counselor for Camp Brace in Masonville, NY from 1972-1976? He was responsible for twelve 15-17 year old "at risk" boys. He provided daily activities, including recreational sports, life coaching, and therapy sessions. He was instrumental in the start-up and coordination of the Winter Olympics that included a competition amongst similar centers across the state. Each Thanksgiving, he would bring 4-5 boys, not able to spend time with family, home to eat dinner with his. Later years, Thanksgiving dinners welcomed 4-5 hunters returning from their morning quest. Most often they were members of the Binder-Mundy-Granger gang from Chestertown, NY. Ed's girls are reminded of the memories with this beloved family via four Jack Binder paintings Ed passed down to them. Jack Binder, world-renowned painter and illustrator, was most widely known for his independent work supplying comics to publishers, such as Fawcett, Marvel, and Street & Smith.
Did you know Ed won $1 million dollars on a scratch-off lottery ticket? Well, he thought he won and proceed to tell his friends only to discover the "Champion's Hand" was not his. One of these friends framed this ticket to remind him of this embarrassing moment. Dad's circle of friends often razzed one another as terms of endearment; the more embarrassing the better.
Did you know Ed raised rabbits in the backyard at 20 Sherman Avenue? He came home one evening with three baby bunnies that his oldest three girls quickly claimed as their own. Before too long, he was feeding 60 rabbits! He promised we never ate any for dinner; we hope it is true for the sakes of Puff, Bootsie, and Smudges.
Did you know that he managed The Gilchrist Hotel in Lake Como, PA, for two years?
Did you know that Ed was a traveling insurance salesman for Prudential Life Insurance for three years?
I bet you didn't know that Ed was a boat Captain for four summers. From ages 24-28 Ed worked for the Lake George Steamboat Company as Captain of the Ticonderoga (1500 passenger-load) boat that took scenic tours around the lake.
Did you know that Ed saved a woman's life? Ed saved the life of his elderly neighbor, Mrs. Lyons, when her home, next door, caught on fire in the middle of the night. Ed noticed the smoke and ran to her aid before his fellow firemen arrived. He carried her from the burning flames to safety.
He is survived by his four daughters Alonna (Deb) Watson, Becky (Dave) Reed, Mindy (Tim) Doyle, and Victoria (Corey) DuBois; a sister Verna (Ray) Frost, and two brothers Fran (Dawn) Lamb, and Dick (Rhonda) Lamb; grandchildren Justin, Kenny, Malachi, Ashea, Zoey, Chelsea, David, Lauren, Darcie, Stephanie, Christopher, Ryan, and Cameron; great-grandchildren Landon, Tatumn, Carson, Kailey, Christopher Jr., Hudson, Courtney, Xavier, Kamden, and Derrick. He was greeted in heaven by his parents Bob and Nellie Lamb, his sister Mollie (Paul) Race, his brother Roger (infant), and his grandson Derrick "Bubba" Lamb.
At times such as these we tend to reflect on what is really important in our time on earth. Be kind, humble, and fair; tell the ones closest to you that you love them; and make life-long friends. We think Ed would add "stay up late, don't stir the cream in your coffee, and make a salad with no lettuce – we all just want the toppings anyway."
Ed is being buried with a pack of Winston's in his shirt pocket along with his money clip, silver metal lighter, and a handful of 50 cent pieces in his pants pocket. May he be happy, healthy, and holding a nut-high flush in heaven.
After drafting our closing paragraph regarding our feelings for our dad, we discovered a letter he had written to his mother not having had the chance to say goodbye due to her sudden passing. His closing words, and sentiment, to her so closely mirrored our own words written about him, we have decided to share his words with you instead.
As I've grown older and watched the siblings and their families grow, I want you to know that your caring and down-home goodness has been passed on through three generations. You would be talking about the accomplishments of your grandchildren, great-grandchildren, and now your great-great grandchildren! You are dearly missed and I hope there is comfort in knowing that your Rock is still being used by so many to stand on. I want you to know how much I loved you.
You brightened every room; we love you dad.
The family invites you to an informal Remembrance Gathering from 1:00-4:00 on Sunday, March 24th at the Sidney American Legion. In lieu of flowers, donations can be made in the name of Ed Lamb to the Sidney Fire Department at 74-76 River Street, Sidney, NY 13838.