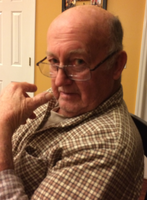 George A. Harrison
George A. Harrison
6/25/1935 – 3/7/2019
George A. Harrison passed away at his home in Rockdale on March 7, 2019.
He was born and raised in Lindenhurst, the son of the late Mr. & Mrs. Walter Harrison.
George will be greeted in heaven by his wife Janet. He is survived by his 4 daughters - Cindy Calendrillo (husband Tom), Sue Harrison (husband Bill Namorato), Nancy Harrison and Laura Harrison (husband Court Ingraham) and his son Scott Harrison (wife Sue). George has 12 grandchildren and 1 great-grandchild.
George enlisted in the US Navy on November 10, 1952 and served until his honorable discharge on May 24, 1956.
George retired as a Homicide Detective with the Suffolk County Police Department in 1981. He and Janet moved to Rockdale following his retirement.
There will be a celebration of George's life on Monday, March 11th from 2:00-5:00pm at C.H. Landers Funeral Chapel, 21 Main St. Sidney.
George will be interred at Saratoga National Cemetery on Tuesday, March 12th. There will be a brief ceremony at 10:00am at the funeral chapel prior to his journey to Saratoga.
In lieu of flowers please send donations to the American Legion Post 183, 22 Union St. Sidney, NY 13838. Share condolences online at www.landersfh.com.
Arrangements are under the direction of C.H. Landers Funeral Chapel, Sidney.