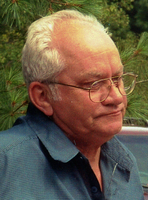 Richard T. Poltz
Richard T. Poltz, 78 of Afton passed away peacefully Monday, March 4, 2019 at his home with his family.
He was born July 9, 1940, son of the late Joseph and Jenny Pearl (Clark) Poltz in Bainbridge.
Dick married Mary Barnard on October 4, 1958.
Dick served his country in the United States Navy from 1960-64 and was honorably discharged.
He worked for Borden Chemical Co. in Bainbridge for 19 years and owned and operated Dick's Shoe Store in Afton for 25 years. Dick also worked with his wife Mary as owner of Poltz Home for Adults for 16 years.
Dick is survived by:
Beloved Wife of 60 years, Mary Poltz, Afton
Son, James Poltz, Afton
Daughter, Kathie Jo Merrill (Todd Shaw), Afton
Grandchildren, William Harmon (Kathryn Stransburg), Cassie (Michael) Sprague, Scott Merrill, Ryan Merrill
Great Grandchildren – Madicine Kern, Rowan Sprague
Brothers – Joseph (Marge) Poltz, Donald (Judy) Poltz, Jeff (Allison) Poltz
Sisters – Judy (Bob) Frank, Dixy (Bob) Pflug
Sister-in-law – Alice Sines
And several nieces, nephews and cousins
Dick was also predeceased by his Brothers and Sisters-in-law, Robert, Bill and Horace Barnard, Polly Fletcher, Ruth Gunther, Etta Mae Norman and Marian Gladys
Services will be private and at the convenience of the family
Burial will be in Eastside Cemetery in Afton
The family wishes to thank all the staff of Hospice and Palliative Care of Chenango County for their care and compassion.
In lieu of flowers memorial donation may be directed the American Cancer Society
Condolences and memories may be shared online at www.landersfh.com
Arrangements are under the direction of C.H. Landers Funeral Chapel Sidney.