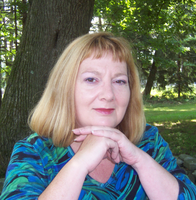 Jane E. Higgins-Main
Jane Evelynne Higgins-Main
Gilbertsville, NY
Jane Evelynne Higgins-Main passed away on Friday, March 1, 2019 in the comfort of her home. Jane was born in Sidney on February 20, 1959, the daughter of Edward A. and J. Louise (Williams) Higgins. She graduated from Sidney High School in 1976. Jane went on to study fine art at SUNY Oneonta and the University of Siena, Italy, graduating with a B.A. in 1980.
In 1981, Jane relocated to Southern California where she pursued a career in graphics and typesetting. In 1994, Jane relocated back to New York State, settling in Gilbertsville in 1995. She opened an art gallery, The Hilton Bloom Art Studio, in her converted carriage barn in 1998. The gallery was open every summer until 2010, featuring changing exhibits of local artists. A professional artist, Jane had been working exclusively in the medium of collage since 1993, and had exhibited extensively in the region, including 4 solo exhibits in regional galleries and 2 solo exhibits in New York City. Her award-winning work was widely collected throughout the country.
Jane married Timothy Mark Main in Bainbridge on May 4, 2013.
Jane had many interests, which included literature, history, mythology, and playing the piano. Jane would like to be remembered for her warmth, humor, and generous spirit.
A lifelong Episcopalian, she attended Zion Episcopal Church in Morris. Jane was a member of GAGA (Gilbertsville Arts Gilbertsville Artists), the Village Improvement Society of Gilbertsville, and the Tianderah Chapter, NSDAR.
Jane was predeceased by her first husband, Al Caranci; her sister, Joan Louise Higgins in 2006 and her brother, Earl Arthur Higgins in 2016.
Jane is survived by her husband, Timothy Main, who loved her dearly from the day they met, and remained at her side until the Lord called her home. She is also survived by a step-son, Max Main of Union Springs; a step-son, David P. Caranci and his wife, Dayna, or Yorba Linda, California, and their children, Joshua and Jacob Caranci, also of Yorba Linda.
There will be no services at this time. Burial will be in Evergreen Hill Cemetery in Unadilla. Share condolences online at www.landersfh.com.
Arrangements are under the direction of C.H. Landers Funeral Chapel, Sidney.