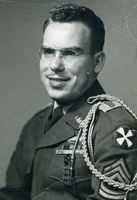 Walter E. Backus
Walter E. Backus
SIDNEY—Walter Edmund Backus, 88, passed away peacefully on Friday, February 8, 2019 in the comfort of his home.
Walt was born in 1930 and graduated from Bainbridge-Guilford High School in 1947. Shortly after, he enlisted in the US Army; he was discharged in July 1950. Walt was recalled to active duty on November 2, 1950 and sent to Ft. Hood Texas for 8 weeks of advanced combat training. Upon completion, he arrived in Korea on January 3, 1951. He served in the combat zone until November when he was promoted to Sgt in the 2nd Logistical Command and returned stateside. He was honorably discharged December 7, 1951.
He began his career at Scintilla on December 20, 1951. He became a Machinist, Union Steward and Group Leader. In 1986, he went to the tool room and became a tool & die maker. In his last 5 years, he had a satellite room and made cams for the entire plant. He retired from Amphenol in 1992 after over 40 years.
Walter spent many winters in Florida. He was a lifetime VFW member, over 20 year member in the American Legion and 50 year Gold Card member of the Local 1529 IAM Union. He enjoyed word puzzles and was an avid reader.
He is survived by his son and daughter-in-law, Ed and Sue Backus; granddaughters: Angela Backus, Shelly and John Myers, and Joseph and Karen Backus; and great-grandchildren, Baleigh and Ethan Myers and Michael and Sophie Backus, all of Syracuse, as well as his special friend, Doris Francisco and family.
He was predeceased by his parents, Vern and Sara LeSuer, wife, Annabelle Kane Backus, daughter and son-in-law, Margaret and Robert Saunders and his significant other, Martha Puffer.
Graveside services with military honors will be held in the spring in Prospect Hill Cemetery, Sidney. In lieu of flowers, memorial donations may be directed to Catskill Area Hospice & Palliative Care, 1 Birchwood Dr. Oneonta, NY 13820.
Share condolences online at www.landersfh.com.
Arrangements are under the direction of C.H. Landers Funeral Chapel, Sidney.