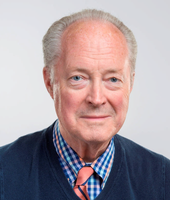 Dr. Donald T. Sherwood
Donald Thomas Sherwood, MD, 74, of Unadilla, New York, passed away peacefully at home on January 21st, 2019, surrounded by his loving family.
He will be remembered by his family as well as by the community who relied on his tireless work ethic, kindness, vitality, love of all God's people and creatures, generous spirit, humility and insatiable quest for knowledge.
Dr. Sherwood was born the third of seven children to John Robert Sherwood and Helen Cullinan Sherwood at Sunnyside Hospital on Staten Island, New York on January 18, 1945. He attended Our Lady of Good Counsel grammar school, Cardinal Farley High School, and graduated Fordham University in 1966. He then earned his medical degree from New York Medical College in 1970. He was selected as chief surgical resident at Metropolitan Hospital in 1974 and became a Diplomate of the American Board of Surgery in 1975.
He married Joan Marie Sorokata in 1968, and moved his family to Sidney, New York in 1975. He was Chief of Surgery at The Hospital in Sidney and cared for patients with his partners and friends at Gelder Medical Group for 40 years, from 1975 to 2015, while he also maintained evening hours at a satellite clinic in Unadilla. In recent years, he provided medical services at Delaware Valley Hospital and at medical offices in Walton, New York.
Dr. Sherwood had an ambitious vision for his family homestead, which he established at Stone House Farm in Unadilla in 1976. He tirelessly cultivated the land by planting trees, flowers and vegetables, breeding horses, and building a spring-fed lake where he hosted family and friends each summer. He was also an avid film enthusiast and enjoyed watching movies with his children and grandchildren, as well as reading classic literature, traveling, and studying world history and ancient cultures. He provided unending support for his children's and grandchildren's many endeavors, by cheering them on at sporting events, celebrating milestones, and steadily encouraging their growth and development. Last summer, Joan and he celebrated 50 years of marriage.
He was a Major in the Army Reserves, where for 10 years he served the medical needs of various military outposts throughout New York, including West Point. He was an active Rotarian in Unadilla, where he was a past President, and was recognized as a Paul Harris Fellow. He was honored by Delaware Valley Hospital in 2018, recognizing his nearly 50 years of dedicated medical service.
Dr. Sherwood is survived by his wife, Joan, and their five children, Elizabeth, Paul, Michael, Matthew (Max) and Andrew; their spouses, Mike, Amy, Katy, Angela and Stephanie; as well as seven beloved grandchildren, Michael, Lily, Audrey, Ava, Amelia, Jack and Bridget. He treasured his lifelong friendships with his siblings and their spouses, Robert and Julie, Lynn, Mary Beth and Ray, Patrick and Suzanne, Anne, and Michael and Liz. He loved and was loved by his nieces, nephews and their children. The Sherwood family's unfailing love and constant support has been a blessing to us all. He is preceded in death by his beloved brother Brian, and friend and colleague Dr. Joseph Lukose.
The Sherwood family is grateful to Dr. Sherwood's colleague Dr. Michael Freeman and his staff, and would like to especially thank Jenn Barnhart, RN from HCR, a caring professional. The family also appreciates the care and support of Isobel Lukose, Dr. Melissa Kreso, Michelle Fields, Judy Grube, and Fred Braun.
A celebration of Dr. Sherwood's life will include calling hours at C.H. Landers Funeral Home in Sidney, New York, on Friday evening, February 1, 2019 from 7 to 9 pm. The Mass of Christian Burial will be held at Sacred Heart Roman Catholic Church in Sidney at 11 am on Saturday, February 2, 2019.
In lieu of flowers, donations made in the memory of Donald Thomas Sherwood, MD will be gratefully accepted:
Delaware Valley Hospital, Attn: Paul Summers, One Titus Place, Walton, NY 13856
Sacred Heart Church, 15 Liberty St, Sidney, NY 13838
Unatego Dollars for Scholars. Attn. Christie Connor, 2641 State Highway 7, Otego, New York 13825
Share condolences with the family online at www.landersfh.com.
Arrangements are under the direction of C.H. Landers Funeral Chapel, Sidney.