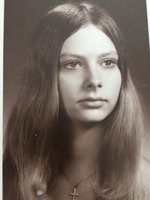 Gale Renee Walker
On January 17 Gale Renee Walker took the hand of our Lord and ascended into heaven. Gale was born and raised in Sidney the precious daughter of William and Esther Walker. Gale was a big sister to Keith, Kimberly and Thomas and a sister-in-law to their spouses Pam Walker, Larry Crowe and Renee Walker.
She loved all her family dearly including 12 Aunts and Uncles, 6 nieces and nephews, 30 cousins and many precious friends from childhood.
Gale was a member of the First Baptist Church of Sidney all her life. The congregation wrapped their loving arms around her celebrating her joys and supporting her in the trials she faced.
Gale resided in Cooperstown Center Nursing Home for the past 7 years and was cared for by a dedicated and compassionate team of staff. Gale's dog and companion Nikki was a comfort to Gale and many residents of the nursing home.
Gale was a graduate of Sidney High School Class of '74 and had many fond memories of her school days.

A Remembrance Service will be held in the spring at the First Baptist Church of Sidney. In lieu of flowers, memorial donations in her memory may be directed to the First Baptist Church of Sidney- Building Fund, 28 River St. Sidney, NY 13838 or to the Delaware Valley Humane Society, 101 E. Main St. Sidney, NY 13838. Share condolences online at www.landersfh.com.

Arrangements are under the direction of C.H. Landers Funeral Chapel, Sidney.