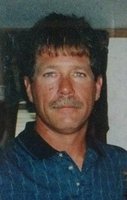 Jeffrey L. Rinker, Sr.
Jeffrey L. Rinker, Sr.
Nineveh—Jeffrey L. Rinker, Sr., 53, passed away on Thursday, January 17, 2019 at Wilson Regional Medical Center in Johnson City after a yearlong battle with cancer. Jeff was born on March 23, 1965, son of Howard Rinker and Joan (Middleton) Rinker in Baltimore, Maryland. He grew up in Afton and attended Afton Central School.
Jeff was the kind of man you could look up to. A hardworking, loving family man who had a beautiful soul. He could find the good in everyone and always gave selflessly, never expecting anything in return. Jeff was a dedicated employee at Bothar Construction in Binghamton for over 30 years. The O'Brien's and the entire Bothar family were a large part of his life. If he wasn't at work you could find him in his workshop. He was a talented woodworker with fine attention to detail and a desire for perfection. A passion he often shared with his grandchildren.
He was married to Wendi Leah Traxler on February 24, 2007 in Harpursville, NY.
He is survived by: his father, Howard "Lou" and Vivian Rinker of Afton; his mother, Joan Rinker of Johnson City; his wife, Wendi Rinker of Nineveh; two brothers, Edward and Dee Rinker of Coventry and his twin, Mark and Donna Rinker of Coventry, step-sister Michel Butts of Afton; stepbrother Michael and Lori Butts of Nineveh; five children: Roxanna and William Hamilton of Oxford, Jeffrey Rinker, Jr. of Bainbridge, Samantha Rinker of Johnson City, James and Cheyanna Button of Greene and Sabrina Button of Nineveh; six grandchildren: Landon, Brent, Padian, Serenity, Jeffrey III and Lucas; and several nieces and nephews.
He was predeceased by his grandmother, Helen Middleton.
A celebration of life will be held on Saturday, January 26, 2019 from 11:30am to 3:00pm at the Harpursville Baptist Church, 41 Cumber Road, Harpursville, NY 13787. In lieu of flowers, memorial donations in his memory may be directed to the Delaware Valley Humane Society, 101 E. Main St. Sidney, NY 13838. Share condolences online at www.landersfh.com.
Arrangements are under the direction of C.H. Landers Funeral Chapel, Sidney.