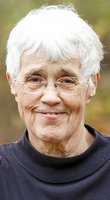 Joyce M. Hall
Joyce Marie Hall
Bainbridge—Joyce Marie Hall, 86, passed away peacefully on Monday, December 24, 2018 at her son Timothy's home. She was surrounded by her family during her final days.
She was born on July 9, 1932, the youngest child of Julius and Edith (Beebe) Sanford in Greene, NY.
In 1950, she was married to James R. Hall in Sidney. He predeceased her on March 25, 2003.
Joyce retired as manager of the plaza branch of NBT Bank in Sidney in 1985. In her younger years, Joyce enjoyed boating, fishing and water skiing. She liked to garden and grow roses, watching the wildlife at her home, and had a beautiful singing voice. Her favorite time of year was Christmas time.
Joyce loved her family. She was a dedicated mother and grandmother, and could often be found attending whatever sporting event, concert or dance recital her grandchildren were involved in.
She is survived by: Children: Timothy J. and Laura Hall of Bainbridge; Debra L. Philpott of Sidney and Constance A. Umbra and Tod Rutherford of Sidney Grandchildren: James and Emily Hall, Justin and Tiffany Hall, Jared Hall, Dereck Simpson, Ericka Simpson, Nicole and Tyler Vandermark, Katelyn Philpott and fiancé, Amanda Smith, Toby and Jenn Umbra, Parker Umbra and fiancé, Heather Pierson and Piper Umbra
Great-Grandchildren: Olivia, Elodie, Lucy, Teddy and Matthias Hall, Addisyn and Preston Umbra, Avery Umbra and Damien Insinga
Friends are invited to call from 5:00-8:00pm on Friday, December 28, 2018 at C.H. Landers Funeral Chapel, 21 Main St. Sidney, NY 13838. Burial will be private in Prospect Hill Cemetery, Sidney. In lieu of flowers, memorial donations in Joyce's memory may be directed to Hospice and Palliative Care of Chenango County, 21 Hayes St. Norwich, NY 13815.
Share condolences with the family online at www.landersfh.com.
Arrangements are under the direction of C.H. Landers Funeral Chapel, Sidney.