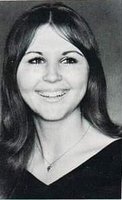 Cheryl Ann Cutting
Cheryl Ann Cutting
AFTON—Cheryl Ann Cutting, 64, of Afton, passed away unexpectedly on December 19, 2018. She was born on June 24, 1954, daughter of Stewart and Gladys Cutting.
Cheryl was a machine operator at Borden Chemical for many years, and an Assistant Director for Broome Developmental Center. She took great pride in maintaining her home and gardens and was known by many for her landscaping skills.
She was a devoted mother, grandmother and great grandma. She will be dearly missed by: 3 children: Derick Butts, Liza Butts and Chad and Kimberly Butts; 6 grandchildren: Trysten, Justin, Ariel, Jaron, Jacob and Wyatt; 2 great-grandchildren: Brentlee and Drayden as well as 9 siblings and many nieces and nephews.
She was predeceased by her parents and one brother.
Private services for Cheryl's family will be held at a later date. Donations in her memory may be directed to PETA at www.supportpeta.org. Share condolences with the family online at www.landersfh.com.
Arrangements are under the direction of C.H. Landers Funeral Chapel, Sidney.