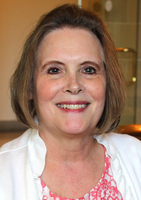 Susan Lorraine Lyons
Susan Lyons
Glenville, NY
Susan Lorraine Lyons, loving daughter, sister, wife, mother, grandmother and friend, passed away at her home on Wednesday, December 5 at the age of 70. Susan was born November 12, 1948 at the Naval Auxiliary Air Station in Chincoteague, Virginia along with her twin brother Steven while her father was serving in the Navy. After his service, the young family moved back to St. Albans, Queens and in 1955 built their Bay Shore, NY home. Graduating in 1966, Susan attended the State University of New York at Oneonta. While there she had the opportunity of a lifetime to complete a nine country tour of Europe with the Women's Glee Club and Hamilton College Men's Choir. She became a teacher in 1970 and moved back to Long Island to teach third & fifth grade in the Three Village District. While at SUNY Oneonta getting her Master's degree she met James Lyons whom she married on December 27, 1975. They settled in Bainbridge, NY and welcomed their daughter Kristen in 1976 and son Matthew in 1980. Soon after, Susan began her more than twenty year tenure at the Office of Employment and Training in Delaware County. In February 1991, Jim passed away unexpectedly and a year later Craig Loudon entered her life. After twenty six years of love and friendship, they were married on February 18, 2018. In 2005, Susan was proud to join the New York State Dept of Education in Albany as the Long Island Regional Director and later served as the Director of Continuing Education for New York State. She relocated to the Capital Region in 2015 after purchasing her dream home in Glenville, and retired in May of this year.
Susan was predeceased by her husband James R. Lyons and father James A. White. She is survived by her loving husband Craig D. Loudon, mother Lorraine A. White and brother Steven (June). She was a wonderful mother to Kristen Lyons (Jason Gardner) and Matthew Lyons (Amy), and grandmother to James and Ava Lyons. She is also survived by her beloved in-laws, cousins, nieces, nephews, and many friends. The family will receive friends and loved ones at C.H. Landers Funeral Home, 21 Main St. Sidney, NY on Friday, December 14 from 2:00 to 4:00 pm and 5:30 to 8:00 pm. The service to celebrate Susan's life will be held on Saturday, December 15 at 1 o'clock at St. Luke's Lutheran Church with an additional viewing starting at noon. Interment to follow at Greenlawn Cemetery in Bainbridge, NY. In lieu of flowers, donations may be made to St. Jude Children's Research Hospital in Susan's memory.
Share condolences online at www.landersfh.com. Arrangements are entrusted to C.H. Landers Funeral Chapel, Sidney, NY.