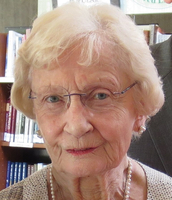 Mary Jane Graf
Mary Jane (Beattie) Graf (88) of Middletown, RI died August 18, 2017 at the Grand Islander Center after a short illness. Born March 13, 1929 in Albany, NY to John Lindley and Helen Regina Beattie, Mary Jane grew up in Schenectady, NY before attending & graduating from SUNY Plattsburgh with a B.S. in School Nurse Teaching. She then became a school nurse in Troy and Tully NY. She met, and subsequently married, the love of her life Dr. Charles H. 'Chuck" Graf in 1952. They served his medical residency in Cambridge NY at Mary McClellan Hospital, and his US Army internship in San Antonio, TX at Fort Sam Houston. In 1956 they moved to Afton NY and ran a medical practice for 16 years while raising their three children. In 1972, they moved to Phoenix, Arizona where they lived until Chuck's death in 1998. Mary Jane moved to Atria Aquidneck Place, Portsmouth RI in 2014, and then the Grand Islander Center this year, and thoroughly enjoyed being so much closer to, and surrounded by her family.
Mary Jane was a dedicated Nurse and loved working alongside her husband in Afton running their medical practice. She was a faithful and passionate wife, a loving and devoted mother and grandmother, a dear friend and an involved neighbor. She was very active in the Catholic Church, both at Saint Agnes Parish in Afton, where she chaired the church guild for many years, and at Saint Francis Xavier Parish and Brophy Chapel in Phoenix where she taught the Marion Award for Catholic Girl Scouts. Because of her childrens' collegiate life in South Bend, IN, Mary Jane became an avid fan of everything Notre Dame! Mary Jane loved life, her family, doing needlepoint, cheering on her family and friends in their numerous activities, working with the Notre Dame Club of Phoenix, and supporting a wide variety of charities. Mary Jane was also blessed with a gorgeous soprano voice, and sang in choirs from High School on. Her crowning achievement was membership in the Arizona State-wide choir that sang for Pope John Paul II's Mass on his 1987 visit to Phoenix! She was always the great communicator of her family, the "glue" that kept 3 generations in contact with her many letters and emails.
She was preceded in death by her beloved husband Chuck, her parents, John and Helen Beattie, her dear brother John Lindley Beattie, her nephews John Beattie and William Carl, and numerous cousins and dear friends.
Mary Jane is survived by her three children: Paul C. Graf (Colleen) of Middletown, RI, Daniel H. Graf of Grapevine, TX, and Jane R. Graf of West Chester, PA, six grandchildren: William C. Graf, Wakefield, MA, Erin K. Palkoner (Ryan), Highlands Ranch, CO, Brian D. Graf, Chicago, IL, Harrison W. Graf (Sydne), Louisville, KY, Margaret H. Caver (John), Lewisville, TX, and Thomas L. Graf Grapevine, TX; four great grandchildren, Logan, Jack and Keira Palkoner, and Mason Graf, her sister Julianne Carl (Charles) of Pensacola, FL, her sister-in-law Margaret Beattie of Stuart, FL, 9 nieces and nephews, and 24 great nieces and nephews.
Mary Jane's services will take place Saturday, September 30, 2017 with visitation beginning at 10:00AM at C.H. Landers Funeral Home, 21 Main Street, Sidney, NY, followed by a Mass of Christian Burial at 11:00AM in St. Agnes Catholic Church, 18 Spring Street, Afton, NY. Internment will take place in the Glenwood Cemetery, Afton, with her husband.
In lieu of flowers, please direct donations to the American Lung Association in Mary Jane's name.
Condolences may be shared with the family online at www.landersfh.com.