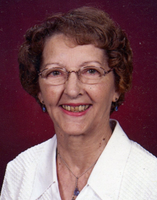 Phyllis F. Chase
Phyllis F. Chase Unadilla, NY
Phyllis F. Chase, age 88, went to be with her Lord on December 14, 2017 at Norwich Rehabilitation & Nursing Center, where she had resided for the past 2 ½ years.
Phyllis was born in Walton, NY September 6, 1929 to William S. Frank Sr. and H. Mae Ammon Frank.
She was a graduate of Walton High School in 1949 and then married the love of her life, Howard B. Chase, the same year. He predeceased her in 2003. Together, they had one son, Claire B. Chase, who tragically died in a car accident at the age of 15.
Phyllis was a member of Christ Episcopal Church and the Order of the Eastern Star, for which she held several offices. She retired from Bendix Corp. as an inspector on January 1, 1983.
She and Howard traveled extensively, including the Holy Land. Their other major enjoyment was their camp on Goodyear Lake.
Survivors include her brother, Richard J. (Butch) Frank and his wife, Linda, as well as many nieces and nephews.
In addition to her husband, son and parents, Phyllis was predeceased by two brothers, William S. Frank, Sr. and Robert E. Frank, and two sisters, Ellen M. Woods-Gennarino and Nancy J. Barnard, as well as her constant companion, Buffy.
Friends may call from 11:00am-1:00pm on Saturday, April 28, 2018 at C.H. Landers Funeral Chapel, 21 Main St. Sidney. Funeral services will begin at 1:30pm at the funeral chapel with Pastor Pat Robinson officiating. Burial will follow in Prospect Hill Cemetery, Sidney.
Share condolences with the family online at www.landersfh.com. Arrangements are under the direction of C.H. Landers Funeral Chapel, Sidney.