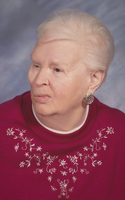 Margaret G. French
Margaret G. (Hinkley) French of Sidney Center, passed away peacefully in her sleep on April 4, 2018. She loved her family immensely and she will be greatly missed by them and many friends.
Margaret was born in Walton on Friday the 13th of April 1928 to Nina (Lockwood) and Maurice Hinkley of Walton. She went to Walton High School and graduated in 1945. She then married Clayton E. French in March of 1946.
Earlier in her life she active member of the Methodist church where she sang in the choir and taught Bible school. Most recently she was a member of the Friends and Family Church in Sidney Center. Throughout her life she enjoyed photography, bowling, dancing, crocheting, cooking and spending time with friends and family at gatherings and reunions.
She started her career at Delmet (Delco) Manufacturing in Walton NY in the 1950's. She worked as an accountant and Business manager for several dealerships in the area including Eckert VW and Stowe VW (Oneonta), Nissan (Norwich), Demaree Chevrolet (Bainbridge) and Breakey Motors (Walton). In addition, she worked at Oneonta Fuel and Oil. She retired from Breakey Motors in October 1996.
She is survived by sons; Gary and wife Alice (Norwich, NY), Wayne and Lynn French (Sidney, NY) and daughters: Carole Van Valkenburg and husband Jim (Unadilla, NY), Marlene Uribe and husband Fernando (Albuquerque, NM); and her sisters: Virginia Lincoln (Vestal, NY), Beatrice Mann and husband Robert (Daytona Beach, FL) and several cousins, nieces and nephews. Additionally, she has 14 grandchildren, 14 great grandchildren and 9 great-great grandchildren.
She was predeceased by her husband in 1975, her dad in 1974, her mom in 1989, her daughter Sharon Martinez (New York, NY) in 2002, and her sister Diana Frazier (Sidney Center) in 2006.
Calling hours will be held on Sunday, April 8th from 5-7 pm and her funeral will be held on Monday April 9th at 11 am. Both will be at C.H. Landers Funeral Chapel, 21 Main St. Sidney, NY. Pastor Judy McCall, of the Sidney Center Family and Friends Church and Bill Orr, former pastor of the United Methodist Church in Sidney Center will be officiating. A graveside service at Highland Cemetery in Sidney Center will follow the funeral services.
In lieu of flowers Margaret requested that donations be made to the Sidney Center Friends and Family Church or to the Catskill Area Hospice, 542 Main St Oneonta, 13820-2084.
Share condolences online at www.landersfh.com.
Arrangements are under the direction of C.H. Landers Funeral Chapel, Sidney.