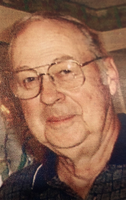 Frederick William Heath
Frederick William Heath Sidney, NY
Fred passed away peacefully on March 30, 2018, at the age of 86, with family by his side. He was recently predeceased by his wife of 65 years, Marilyn L. Heath. Fred is survived by sons John; Unadilla, Joseph (Beverley); Florida, Kevin (Alan); California and Jeffrey (Darlene); Alabama. His beautiful grandchildren Monica (Ben); Florida, John (Samantha); Georgia, Alicia (Abel); Florida, Lindsey (Andrew); Florida, Joey (Courtney); Florida, Jeffrey (Susanna); Texas, Margaret, Kyle (Alabama), Pam (Josh); New York, Heather (Fernando); Florida, and many wonderful great grandchildren.
He is also survived by his sister in law, Polly Bump and many special nieces, nephews, cousins and friends. Fred was predeceased by his parents, William Olin Heath and Edith Wilbur Heath, brothers George, Richard, Jim and Wilber; sisters: Chris, Florence, Bea, and Esther.
Fred was born August 4, 1931 in the town of Butternuts, NY. Fred graduated in 1949 from Mt. Upton High School. He worked on his parent's farm most of his young life until he went into the Marine Corp during the Korean war from 1951-1952. After that he was employed at Amphenol for 43 years as a machinist and was a member of the American Legion in Sidney. When he retired, he started making beautiful wooden frames and boxes and continued his engraving art.
Fred will be remembered fondly for many things including his soulful laugh, his ability to fix anything, including car engines, being a great Dad and a devoted, loving husband.
In lieu of flowers, please contribute to the American Cancer Society or Veterans Memorial Park in Sidney. Share condolences with the family online at www.landersfh.com.
Arrangements are under the direction of C.H. Landers Funeral Chapel, Sidney.