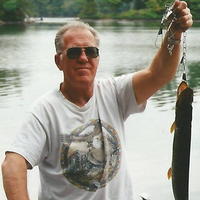 Donald W. Doyle
Don Doyle of Sidney passed away on March 28, 2018 surrounded by his loving family.
Don was born in Cazenovia, New York, on December 11, 1934. His parents, Ralph and Mabel Doyle moved to Sidney and eventually built one of the original houses on Sunset Avenue.
Don was a proud member of the Sidney Class of 1952. During his school days he met Arlene Loudon and after a four-year courtship they were married and raised six children together.
In high school he played saxophone in the band and was a standout athlete in both football and baseball. He was a member of the 1950 Sidney Hall of Fame Legacy football team and played baseball in the summer months with the Sidney Cardinals. His love of athletics continued long after his high school days. He played in the community softball league as a member of a Golden Valley team that won several championships. Don coached Pee Wee and Little League baseball and was a co-founder of the Black Feather Bowmen where he helped coordinate youth archery leagues at the Sidney Rec. Center. He never missed one of his children's or grandchildren's concerts or sporting events. His support of Sidney athletics continued for many years after his own family members had graduated. He especially enjoyed attending wrestling, football and volleyball contests.
Don worked for Scintilla Magneto / Bendix / Amphenol for 44 years as a Machinist and Tool Maker. He was an avid outdoorsman and a longtime member of the NRA. He was lifetime member of the Rockdale Rod & Gun Club who loved to hunt and fish. Family vacations were spent on a lake in Canada where he would often catch Walleye Pike for the evening meal. Family Thanksgiving dinners typically included venison and turkey from his hunting adventures.
Don served on the board of directors for the Prospect Hill Cemetery for 11 years, where he spent countless hours maintaining the grounds. Don was also a long-time member of the Sidney United Methodist Church where he served many years as a Trustee and singing in the Chancel Choir.
Don is survived by his wife of 63 years, Arlene Doyle, his brother Hugh Doyle (Jeanette) of Jacksonville, Florida, his son Jack Doyle (Cindy) of Sidney, daughter Paula Cole (David) of Bainbridge, son Jeff Doyle (Barbara) of Rockdale, son Tim Doyle (Mindy) of East Guilford, daughter Donna Kazalski (Joel) of Greene, son Tom Doyle of New York City, twelve grandchildren, and 10 great-grandchildren.
Calling hours will be held at C.H. Landers Funeral Chapel on Wednesday, April 4, from 1:00 - 3:00 PM and 5:00 – 7:00 PM. Funeral services will be conducted at the Sidney United Methodist Church on Thursday, April 5, at 11:00 AM. Burial at the Prospect Hill Cemetery will immediately follow the service. A reception will be held in the Church Fellowship Hall following the burial.
Condolences may be shared with the family online at www.landersfh.com.
Arrangements are under the direction of C.H. Landers Funeral Chapel, Sidney.