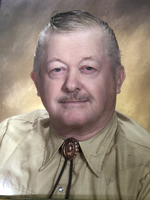 Donald W. Moffitt
Donald W. Moffitt, 74 of Afton passed away peacefully late Saturday, March 24, 2018 at his home surrounded by his family.
He was born April 8, 1943, son of William and Alice (Barnard) Moffitt in Afton.
Don served his country in the United States Marine Corp; he was awarded the National Defense Service Medal, Rifle Marksmanship Badge and the Good Conduct Medal and was honorably discharged in 1969.
He was employed by the Borden's Chemical Co. in Bainbridge maintaining machines prior to his debilitating accident.
Don liked the outdoors, enjoyed rabbit hunting and working in the garden. Don also liked to work with his hands, woodworking and playing the banjo. Most of all, Don loved spending time with his Grandchildren.
Don is survived by:
Mother, Alice Sines
Son and Daughter-in-law, James and Amanda Moffitt and their children, Austin and Cody
Daughter, Amy Johnson and her children, Dylan Moffitt, Tori and Michael Johnson
He was predeceased by his son, Jesse Moffitt and is survived by his children Tyler Moffitt, Jeff and Nick Tanner and four great grandchildren
As well as several Nieces, Nephews, Cousins and many friends.
Don was also predeceased by his Father, William Moffitt, Step-Father, Herbert Sines, Brother, Richard Moffitt and Sister, Beverly Gowen.
A celebration of life for Don will be held Friday, March 30, 2018 at 3:00 PM at the Sidney American Legion 22 Union St. Sidney, NY
Condolences and memories may be shared online at www.landersfh.com
Arrangements are under the direction of C.H. Landers Funeral Chapel Sidney.