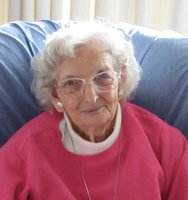 Nancy Rudd Simpson Schauss

Nancy Rudd Simpson Schauss
Sidney, NY
Nancy Rudd Simpson Schauss died peacefully at home on Friday March 23, 2018. She was born in Ilion, NY on February 1, 1927.
She married James Simpson, Jr. on December 18, 1948. He predeceased her on January 20, 1980. She was predeceased by daughter, Jana Campbell on May 2, 1988. She was also predeceased by second husband, Edward Schauss.
She is survived by: daughter, Leigh Crumrine; son, James Simpson III and daughter and son-in-law, Amy and Paul (Jr.) Hamilton. She is also survived by nine grandchildren: Adam Crumrine, Cyerra (Eric Britt) Crumrine, Emily (Andrew) Speck, James (Kim) Simpson, Leanna (Greg) Bautista, Jeremy (Cindi) Campbell, Andrew Campbell, Katharine (Joe) Thiel and Paul Hamilton III. She also had eight great grandchildren: Colin and Annalise Speck, Joseph and Mallory Simpson, Eloise Bautista, Kayla Campbell, Kendyl Thiel and Mae Britt.
She is also survived by two sisters: Carolyn Hubbell, Kelly Corners, NY and Lydia Rudd, Ilion, NY as well as several nieces and nephews.
Nancy graduated from Oneonta State with a teaching degree and was proud to have been a fifth grade teacher before starting her family.
In lieu of flowers contributions can be made to Catskill Area Hospice 297 River St Service Road #1, Oneonta NY 13820.
Graveside services will take place later this spring at the family's convenience.
Share condolences with the family online at www.landersfh.com.
Arrangements are under the direction of C.H. Landers Funeral Chapel, Sidney.