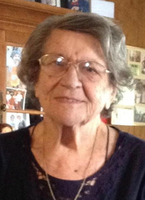 Marian L. Hinkley
Marian L. Hinkley
Sidney, NY
Marian L. Hinkley, 95, passed away peacefully on Thursday, February 8, 2018 at her home. Marian was born on August 13, 1922, daughter of the late William and Bernice (Case) Laraway in Sidney. She was a longtime employee of Scintilla in Sidney, working as a mail clerk, retiring in 1983.
On August 16, 1942, she was married to Edward G. Hinkley in Sidney. He predeceased her in 1990. She later married Thomas Egnaczak on August 4, 2003. He predeceased her in 2010.
When her family was young, Marian loved camping and outdoor activities, and she enjoyed sewing. She and Ed also loved to go square dancing. Marian was a former member of the Sidney Fire Dept. Ladies Auxiliary and a volunteer with the Girl Scouts. She also enjoyed volunteering her time on community fundraising projects.
She will be missed by: her children: Diane and Bernard Mogelever, William and Phyllis Hinkley and Sandra and Robert Matteson; step-daughters, Brenda Barnard and James Scotti and Debra and Howard Butler; 9 grandchildren, 18 great-grandchildren and many nieces and nephews, as well as her dear friend and caregiver, Linn Livingston, and by her beloved cat, Gigi.
Graveside services will be private and held at a later date in Prospect Hill Cemetery, Sidney. In lieu of flowers, memorial gifts in Marian's memory may be directed to the Sidney Emergency Squad, 21 Liberty St., Suite 16 Sidney, NY 13838 or to the Delaware Valley Humane Society, 101 E. Main St. Sidney.
Share condolences with the family online at www.landersfh.com.
Arrangements are under the direction of C.H. Landers Funeral Chapel, Sidney.