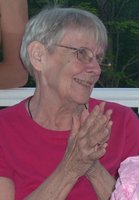 Elizabeth A. Matthews
Elizabeth Ann (Laird) Matthews, 83, of Sidney, New York, passed away on February 1, 2018 in Stamford, New York.
Elizabeth was born in Elmira, New York on May 29, 1934. She went to high school at Horseheads High School (NY) and graduated in 1952. She went on to earn a degree from Boards of Cooperative Educational Services' (BOCES) LPN Program in Practical Nursing. She worked as a Licensed Practical Nurse for Robert Packer Hospital in Sayre, PA for over 20 years.
Elizabeth is survived by her six children son Eric (daughter-in-law Beth) of Sanford, ME; son Wade (daughter-in-law Sue) of Houston, TX; daughter Jill (son-in-law Steve) of Kalispell, MT; son Phillip of New York, NY; daughter Gail of Murfreesboro, TN; and son Jeffrey (daughter-in-law Kimberly) of Sidney, NY. Elizabeth is also survived by nine grandchildren (Zachary, Leah, Wesley, SaraBeth, Joshua, Megan, Matthew, Cole and Liam) and 10 great-grandchildren (Olivia, Bennett, Finley, Paxton, Knox, Cyrus, Zara, Levy, Zoie and Issabella).
She is preceded in death by her mother, Alberta Addison of Endicott, New York.
In lieu of flowers, the family suggests memorial donations be made to the Mary W MacKinnon Fund. Please make checks payable to: Mary W MacKinnon Fund, Community Bank, ATTN: Trust Dept. John Jones, 19 Union Street, Sidney, NY 13838.
The family wishes to extend their sincere gratitude to the wonderful nurses, social workers and administrative staff of Robinson Terrace's Senior Living and Assisted Living facilities in Stamford, New York for their dedication and commitment to providing quality personal care to our mother over the last seven years that she was entrusted to their care.
Calling hours will be held at C.H. Landers Funeral Home, located at 21 Main Street in Sidney on Saturday, February 3 from 12-2pm. A funeral service will follow calling hours and will be held from 2-3pm. Elizabeth will be laid to rest at Vestal Hills Memorial Park in Vestal, New York. Share condolences with the family online at www.landersfh.com.
Arrangements are under the direction of C.H. Landers Funeral Chapel, Sidney.