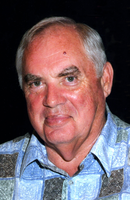 Richard L. Curley
Richard L. Curley Bainbridge, NY
Richard L. Curley, 79, passed away on Tuesday, January 30, 2018 at Wilson Regional Medical Center in Johnson City after a brief illness surrounded by his family. Dick was born on September 28, 1938 in Sidney, NY, son of the late Leslie and Virginia (Hoyt) Curley.
He graduated from Sidney High School with the Class of 1956 and enlisted in the US Navy later that year. He served until his honorable discharge in September 1959.
On August 20, 1960, he was married to Ethel Armstrong in Bainbridge, NY.
Dick began his career at Elmer's in Bainbridge in 1964, serving over 35 years before his retirement. He was a long time member of the Sidney American Legion and the Sidney Moose Lodge. Dick loved watching high school sports and golfing. He was an original founding member of the Guilford Golf Course. He founded morning leagues in both Afton and Guilford, serving as secretary at different times. Dick was a member of the Greater Norwich Golf Hall of Fame, a silver medalist in the Empire State Senior Games for Golf, played in the BC Open Pro-Am, and boasted 3 career holes-in-one.
He is survived by: his wife of 57 years, Ethel Curley of Bainbridge; three children: Ed and Carol Curley of Sidney, Philip and Kelli Curley of Norwich and Cathi and Jake Leichty of Unadilla; grandchildren: Parker (Chelsey) Curley of Bainbridge, Corbin (Kelsey) Curley of Sidney, Brianna Curley of Norwich, Shannon Curley of Binghamton, Kaitlyn Winton of Norwich, Brandon Winton of Columbus, and William and Matthew Leichty of Unadilla; great-grandson, Zayden Curley of Sidney; brother, Charles and Roberta Curley of North Carolina, as well as several nieces, nephews and cousins.
In addition to his parents, Dick was predeceased by his daughter, Traci and by his brother, Donald.
Please join the family to celebrate Dick's life on Tuesday, February 6, 2018; the family will receive friends from 11:00am-2:00pm followed by a service at 2:00pm. In lieu of flowers, memorial donations in his memory may be directed to the Greenlawn Cemetery Association, 13 Evans St. Bainbridge, NY 13733 or to the Juvenile Diabetes Research Foundation at www.jdrf.org. Share condolences and memories with the family online at www.landersfh.com.
Arrangements are under the direction of C.H. Landers Funeral Chapel, Sidney.