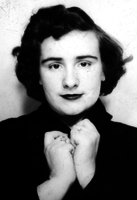 Shirley B. Ross
Shirley B. Ross Mt. Upton, NY
Shirley Bernadine Ross, 81, of Mt. Upton, passed away peacefully on Wednesday, January 24, 2018 at Chenango Memorial Hospital in Norwich. Shirley was born on August 19, 1936 in Loweville, NY, one of nine children of Robert and Lu Lu (Satterly) Norton.
On October 9, 1954, she was married to Raymond D. Ross at the Presbyterian Church in Rome, NY. They shared 52 years of marriage before he predeceased her in 2006.
In 1975, Shirley began her career at Amphenol Corp. in Sidney. When she retired in December 2001, she was working in shipping, which she loved. She also served as a Union Steward for the IAMAW Local #1529.
In her younger years, Shirley loved camping, boating and water skiing. For a time, her family had a camp on Lebanon Reservoir where many happy memories were made. She enjoyed bear watching, reading and especially playing Bingo at the casinos. She loved her pet cats and most importantly spending time with her grandchildren.
She is survived by: six children: Jacqueline and Al Dewitt of Oxford, Peggy and Dan Quiter of Mt. Upton, Kingsley Ross of Sidney, Michael and Karen Ross of Mt. Upton, Sherry and Jack Whaley of Norwich and Sandra Warren of Harpursville; grandchildren: Heather Cummings, Danny Quiter, Kristen Quiter, Ray Ross, Dawn Pickens, Chris Ross, Alicia Ross, Craig Ross, Kelsey Ross, Brianna Whaley, Cameron Whaley, Kara Schaeffer and Kale Warren; great-grandchildren: Kolbie and Mason Cummings, Aliya and Kenyon Pickens, Nicholas and Ethan Bertrand, Andrew Taylor, Kane Winn, Jackson and Hudson Bryant, Erik and Carter Ross, Connor and Addison Ross, and Lennon Paige Whaley.
In addition to her husband and parents, Shirley was predeceased by a grandson, Spencer Whaley; a great-granddaughter, Emily Garcia, and her 8 siblings.
Friends may call from 1:00-3:00pm on Saturday, January 27, 2018 at C.H. Landers Funeral Chapel, 21 Main St. Sidney, NY 13838. Graveside services will take place in the spring in Maplewood Cemetery, Mt. Upton. Memorial contributions in Shirley's name may be directed to Danielle House, 160 Riverside Dr. Binghamton, NY 13905, or to the American Cancer Society at www.cancer.org.
Share condolences with the family online at www.landersfh.com.
Arrangements are under the direction of C.H. Landers Funeral Chapel, Sidney.