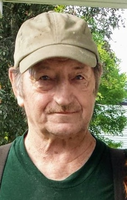 Loren M. Ward
Loren M. Ward
Loren Ward age 79, of Bainbridge, N.Y. passed away on 12/24/2017 surrounded by his loving family. Loren was retired from Great American (formerly Victory Markets) where he worked for many years. He enjoyed his family, the out of doors and was a lifelong resident of his parents' (Ben and Myrtle Ward) family homestead in Union Valley, West Bainbridge. On 10/21/1989, he married Dorothea (Dot) who survives him. He is also survived by his three loving children - one son, David L. (Elisha) Ward, two daughters Debra (Michael) Morley and Darlene Ward, four stepchildren Edward (Linda) Dotey Jr, Anna Dotey, Penny Decker, David (Loretta) Dotey, two sisters-in-law Edna David and Nina Retteburg. He is survived by several grandchildren and great-grandchildren whom he loved dearly. His brother Lloyd (Margaret) Ward also survives him, along with many special nieces, nephews, cousins, and friends. He was predeceased by his sister, Lila Knowlton in July 2017 and stepdaughter, Sally Dotey in May 2011.
A memorial service will be held at 11:00am on Friday, December 29, 2017 at C.H. Landers Funeral Chapel, 21 Main St. Sidney, NY 13838. In lieu of flowers, kindly consider donations to: Central New York Youth for Christ, Box 362, Oneonta, NY 13820. Share condolences and memories with the family online at www.landersfh.com.
Arrangements are under the direction of C.H. Landers Funeral Chapel, Sidney.