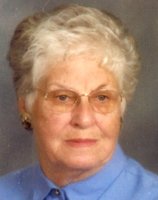 Harriet Snell
Harriet Snell
Afton—Harriet Jeanne Shepard Snell, 92, passed away on December 25, 2017 at Chestnut Park Rehabilitation & Nursing Center in Oneonta . She was born on August 10, 1925, daughter of the late Glen and Mae (Brown) Shepard in Champaign, Illinois.
Harriet graduated from Afton High School with the Class of 1944. She attended Rider College, then started her business career as a secretary at Johnson & Johnson in New Brunswick, NJ.
Harriet met and married Edward Snell, a passenger conductor for the Pennsylvania Railroad. The couple moved to Highland Park, NJ, and had two children, Debbie and Eddie, joining Ed's daughter, JoAnn. Harriet was active in church and her children's schools, and she later continued her career, becoming a revenue officer for the IRS. Edward Snell passed away in 1981.
Harriet continued working until 1987 then retired to Punta Gorda, FL. Harriet approached her retirement with the same energy and enthusiasm she brought to all endeavors. She bought a pontoon boat and christened it "Harriet's Chariot." She joined a banjo group called The Dixie Cups and played at nursing homes. She played bingo and spent many sunny days cruising around the Charlotte Harbor with her sister and brother-in-law, Lorraine and Bill Poole, and she was active in the Power Squadron boating club. She enjoyed time with her children, grandchildren, nieces, nephews and extended family.
Throughout the decades she lived away from upstate New York, Harriet visited frequently and maintained close ties to the area through family members and friends. The family's cottage on Afton Lake was home to many happy reunions, family functions, and summer holiday celebrations. Harriet made a special trip home for her 50th class reunion in 1994—a day she described as "magical" after getting to see many old friends and former classmates.
In 2004, Harriet moved back to Afton to stay, wanting to be near her daughter and extended family. She enjoyed returning to her hometown, spending time with family and taking in the beauty of spring, summer and fall at the lake. She also became a member of the Afton Baptist Church. Though she struggled with medical issues, Harriet continued to be busy and active, making the most of the opportunity to reconnect with the community.
Harriet will be missed by: her children: Deb (Joe), Ed (Nancy) and JoAnn; 3 grandchildren and 10 great-grandchildren; sister, Lorraine (Bill) Poole; as well as nieces, nephews, cousins and loving friends.
Harriet was predeceased by her parents, her beloved husband, Ed Snell, her sister Glenna Shepard, her son-in-law, Richard and other loving family members.
The family wishes to thank Arlene for driving Miss Harriet and to Jane for always being there; as well as the staff at Chestnut Park for the loving care shown to Harriet.
Friends are invited to call from 2:00-4:00pm on Saturday, December 30, 2017 at C.H. Landers Funeral Chapel, 21 Main St. Sidney. A memorial service will begin at 4:00pm at the funeral chapel. Burial in Glenwood Cemetery, Afton, will take place at a later date. In lieu of flowers, memorial donations in memory of Harriet may be directed to the charity of one's choice. Share condolences and memories with the family online at www.landersfh.com.
Arrangements are under the direction of C.H. Landers Funeral Chapel, Sidney.