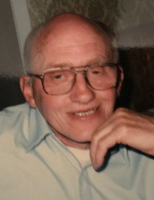 Melvin R. Clapperton
Melvin R. "Bill" Clapperton of Sidney Center passed away at the Norwich Rehabilitation and Nursing Center on November 10. Born in Middletown on July 21, 1932, the son of Ray and Edna (Bennett) Clapperton he lived most of his early life in Downsville. He spent much of his time on the farm of his Aunt Mabel and Uncle Perry Champlin. It was during this period of his life when a neighbor began calling him "Bald Bill from over the hill. It was a name that stuck with him throughout his 85 years.
During his time on the farm he had the opportunity to live the dream of many children of the time when he "ran away and joined the circus". His circus career was cut short when the calendar turned to September and it was time for him to return to the farm and school.
When he wasn't helping his Uncle Perry with the chores on the farm, he was either playing organized sports, with baseball and basketball being his favorite, or off in the woods hunting or fishing. These passions he carried with him the rest of his life.
After graduating from Downsville High school he enlisted in the United States Navy, serving aboard ship during the Korean War.
When he returned home, he met Sherrie Terry and the two were married on April 20, 1957 in the Sidney Center Methodist Church. The couple lived in Sidney for two years before moving to Sidney Center.
While working at Amphenol he also was a volunteer firemen with the Sidney Center Fire Department in addition to coaching Pee Wee League baseball teams and assisting with the Pee Wee Wrestling Program in Sidney Center.
In pursing his passion for hunting, he was a founding member of the Carroll Hill Hunting Club and also was a lifetime member of the National Rifle Association.
Never one to spend idle time he competed in two General Clinton Canoe Regatta 70 mile races, once in a canoe he built with his paddling partner.
He also enjoyed family camping trips, starting out in a station wagon, before advancing to tent camping and finally a pop up camper. Piseco Lake was a favorite destination for him and many of his friends and family.
After retirement he purchased Kamp Ko-Man-Go on the Susquehanna River just outside Oneonta. He would spend much of the summer at the camp with his grandchildren and family members enjoying many chicken barbecues.
It was during this time that he found time to enjoy the many activities of his grandchildren, from dance recitals, basketball games, wrestling matches to field hockey contests, just to name a few.
He was predeceased by his wife Sherrie on February 15. He was also predeceased by his sisters Elaine Clapperton and Lois Baumes. His brother, David, also predeceased him.
He is survived by his sons Stephen Clapperton, of Sidney and Thomas and Sandy Clapperton, of New Berlin, his grandchildren, Sarah Bennett and her fiancé, Shane Neer, of Cairo, Brandon Clapperton and his fiancée Morgan Winans, of Deposit, Lindsey and Justin Hodge of Smyrna, Skylar and Tyler Pritchard of Columbia, SC, Jordan Clapperton and he is also survived by his great-granddaughter Riley Neer and several nieces and nephews.
As per his request he was cremated and there will be no services. His family will gather in the future for a private celebration of his life.