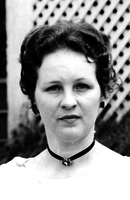 Margaret L. Westgate
In Memory of
Margaret L. Westgate
June 26, 1928-December 1, 2017
Margaret L. Westgate, 89, of Bainbridge, New York passed away on December 1, 2017 at the Norwich Rehabilitation and Nursing Center. Margaret (Peggy) was born on June 26, 1928, and spent most of her life in the Bainbridge area. Peggy will be missed by her son and daughter-in-law, Victor and Lisa; her daughter and son-in-law, Beckee and Jerry Knight, and her grandchildren, Christopher and Samantha. Peggy was predeceased by her husband, Ralph, and her son, Marke.
Peggy's reputation as being a "love bucket" followed her throughout her life, even while living for the past seven years at the Nursing Home in Norwich. Margaret's family wishes to thank the entire staff at the Norwich Rehabilitation and Nursing Center for their compassion and care; dementia is a cruel disease taking its victim's memories and connection to the present away from them in a slow and debilitating manner.
Margaret's family asks that donations be made to www.brightfocus.org, dedicated to finding a cure for dementia in lieu of flowers. Burial services will be private. Condolences may be shared with the family online at www.landersfh.com.
"This is my letter to the world
That never wrote to me-
The simple News that nature told-
With tender Majesty
Her message is committed
To hands I cannot see-
For love of her-Sweet-countrymen
Judge tenderly-of Me"
-Emily Dickinson