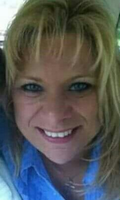 Tammy L. Fletcher
Tammy Lynn Fletcher, 46, of Ocala, FL, formerly of Bainbridge, NY, died unexpectedly on Sunday, November 26, 2017. Tammy was born at the Hospital in Sidney, NY on January 30, 1971 to Roger and Shirley Fletcher of Bainbridge. Tammy was a beautiful gift from God to a family of all boys and was the pride and joy of her parents. Tammy was a graduate of Bainbridge-Guilford High School and loved playing basketball and softball. She attended Herkimer College and was enrolled in the College's Travel and Tourism program. While attending Herkimer College, Tammy was selected for the prestigious Disney Internship Program. As a result of this opportunity, Tammy worked for Walt Disney World in Orlando, FL for many years. While working for Disney, she attended college to obtain her paralegal certification. Later, Tammy returned to her hometown in New York so that her son, Timothy, could finish his secondary education in a more positive environment. Tammy retained an overwhelming desire to return to the warm Florida sun. After marrying the love of her life, John Doolittle of Bainbridge, earlier this year, Tammy and John purchased a home in Ocala and started their new life together in Florida. Tammy was a loving wife, mother, daughter and sister who embraced life fully. She loved her husband and her family, her dog Luke, and her many friends both in Florida and in New York.
Tammy is survived by her son, Timothy A. Walts, husband, John Doolittle, her mother, Shirley A. Fletcher of Bainbridge, her brothers Thomas R. (and Maureen) Fletcher of Sherrill, NY, Todd S. (and Mary Beth) Fletcher of Fishkill, NY and Tad C. (and Alyssa) Fletcher of Wakefield, VA. She is also survived by many aunts, nieces, nephews and cousins. Tammy was predeceased by her father, Roger H. Fletcher, her brother Timothy E. Fletcher, her paternal and maternal grandparents and several uncles and aunts.
A memorial service is being held on Saturday, December 2, 2017, at 11 a.m. at the First United Methodist Church, 27 North Main Street, Bainbridge, NY. Burial in Greenlawn Cemetery in Bainbridge is private at the request of the family.
C.H. Landers Funeral Chapel, 21 Main Street, Sidney, NY is handling the funeral arrangements and the family is grateful for the caring and professional service they have provided during this difficult time. In lieu of flowers, donations may be made in the name of Tammy Fletcher to the First United Methodist Church, P.O. Box 286, Bainbridge, NY 13733 or to the Delaware Valley Humane Society, P.O. Box 182, Sidney, NY 13838. Condolences may be shared with the family online at www.landersfh.com.