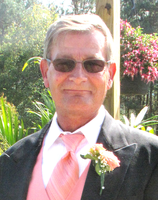 Joseph Alan Baker
Joseph A Baker Sr, age 59, passed away on Sunday November 26, 2017 at his home in Sidney after a long battle of bladder cancer surrounded by his family. He was born September 27, 1958 in Walton to Raymond E Baker Sr and Effie A Brisbane.
Joseph attended Roxbury Central School and graduated from Walton Central School. He resided in the Sidney area with his wife and two wonderful kids. Joe worked at Amphenol for 36 years. His career ended as a well-respected plating room supervisor. Joes major love in life was spending time with family and friends. He was known for his caring personality, round table discussions, advice and great sense of humor.
Joseph is survived by his wife of 37 years, Barbara Baker (nee Haynes); Daughter and Son-in-law Teresa and Bryan Walley of Bainbridge with their two sons Owen and Gabe; Son and Daughter-in-law Joseph Jr and Regina Baker of Sidney and their four children Chelsie, Devin, Brooke and Kendall; and his two Fur Babies Jasper and Jasmine.
Joseph was predeceased by his Father Raymond Sr and Mother and Stepfather Effie and Albert Van Dyke Sr. Along with his parents, Joe was predeceased by 3 sisters Joyce Smith, Irene Baker and Althea Van Dyke. He is survived by step mother Margaret and Howard Robinson, Sidney; 12 brothers and sisters: Gerald Baker of Birch Tree, MO; Arlene and Raymond Wood of Bainbridge, Alberta Van Dyke and William Lobdell of Grand Gorge, Raymond and Melissa Baker of Sidney, Albert Van Dyke and Lisa Hoyt of Unadilla, Alan Van Dyke of Roxbury, Sandra and Michael Baldwin of Unadilla, Robert and Susan Baker of Oneonta, Carol Baker and Doug Hurlburt of Oneonta, Marie and Kimmo Eramo of Oneonta, Kathy and Bill Burton of Unadilla, Christina and Patrick Miller of New Lisbon. He is also survived by in-laws Gloria and David Hawkins, Buffalo Valley, TN; Richard and Dale Ingram, Norwich; Fred and Dawn Haynes, Sidney; Randy Haynes and Melissa Cerbone, Sidney; along with many aunts, nieces, nephews and cousins.
A celebration of life will take place on January 13th from 2-6pm at The Sidney Fire Hall. Contributions in Josephs memory may be made to: Catskill Area Hospice & Palliative Care, 542 Main St, Oneonta NY 13820 or Sidney EMS or Sidney Fire Department located at 74 River St, Sidney, NY 13838 or Delaware Valley Humane Society 101 E. Main St, Sidney, NY 13838.
Condolences and memories may be shared with the family online at www.landersfh.com.
Arrangements are under the direction of C.H. Landers Funeral Chapel, Sidney.