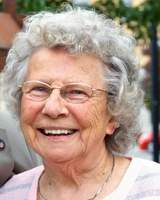 Cecelia Marie Lipp
Cecelia Lipp, Afton, NY
Cecelia Marie Lipp died in her home on Saturday, November 18, 2017 in Afton, N.Y. after a battle with lung cancer. She was 87.

She was born on June 25, 1930 in Scotchtown, N.Y. to the late, William and Marie (Novak) Lorenz.
Cecelia graduated from Montgomery High School in 1948. She married George Lipp in 1962 and they resided in Deposit, and Hamden, N.Y. before moving to Afton in 1973.
Cecelia retired from the NYS Department of Transportation in Binghamton in 1995.
She spent her remaining years gardening, reading and with her family. Cecelia spent hours sewing blankets and crocheting newborn caps and preemie outfits, which were donated to local hospitals and other charitable outlets.

Cecelia is survived by her husband, George B. Lipp, Afton
As well as, Leonard Miller (Deanna Otteson) of Melbourne, Fla.; Karen C. Miller in Middletown, N.Y., Patricia White of Constableville, N.Y., Suzanne Corey (James) in Saratoga Springs, N.Y.; and Bruce Lipp (Lori Lucas) of Reno, Nev.
She also survived by two grandchildren, Kristina Keicher and Chad Miller, both of Chittenango, N.Y., and four great grandchildren.
She is also preceded in death by her three brothers, William, Frank and George Lorenz, and her sister, Marie Harker.

Services will be private and at the convenience of the family
Mrs. Lipp will be buried in Eastside Cemetery in Afton.
Contributions in Cecelia's memory may be made to Chenango County Hospice and Palliative Care, 21 Hayes Street, Norwich, N.Y. 13815
Condolences and memories may be shared online at www.landersfh.com
Arrangements are under the direction of C.H. Landers Funeral Chapel Sidney