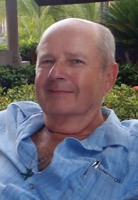 Samuel H. Cutting
Samuel H. Cutting
Masonville—Samuel H. Cutting, 69, passed away peacefully on Thursday, November 16, 2017 at Chase Memorial Nursing Home in New Berlin. Sam was born on April 5, 1948 in Sidney, son of the late Howard E. and Marie (Knapp) Cutting. On December 4, 1965, Sam was married to Linda DuMond in Deposit. He graduated from Sidney High School with the Class of 1967.
He began his career at Bendix (Amphenol) working as a machinist until 1969. He then worked for several years for the Town of Masonville as an equipment operator. In 1978, Sam returned to Amphenol for over 32 years, retiring in 2010 as a shipper.
Sam was a past member of the Masonville Fire Dept.
He will be missed by: his wife of nearly 52 years, Linda Cutting; son and daughter-in-law, Charles and Dorothy Cutting of Masonville; daughter and son-in-law, Toni and Tom Sklenka of Worchester; four grandchildren: Christopher Cutting of Masonville, Jennifer and Luis Lopez of Broadway, NC, Ryan Sklenka of Albany and Cassie Sklenka of Jackson, ME; sister and brother-in-law, Marilyn and Richard Riesen of Binghamton; two great-grandchildren, Laedon Cutting and Levi Lopez, as well as several nieces and nephews.
In addition to his parents, Sam was predeceased by his brothers, Ronald Cutting and Robert Knapp.
Friends are invited to call from 2:00-4:00pm on Tuesday, November 21, 2017 at C.H. Landers Funeral Chapel, 21 Main St. Sidney. A memorial service will begin at 4:00pm at the funeral chapel. In lieu of flowers, memorial donations in Sam's memory may be directed to the Masonville Fire Dept., PO Box 362 Masonville, NY 13804 or the Masonville Emergency Squad, PO Box 114, Masonville.
Share condolences and memories with the family online at www.landersfh.com.
Arrangements are under the direction of C.H. Landers Funeral Chapel, Sidney.