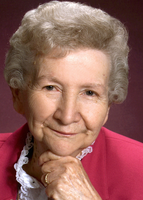 Margaret L. Higgins
Margaret L. Higgins
Sidney—Margaret L. Higgins, 90, passed away on Thursday, September 21, 2017 at Wilson Regional Medical Center in Johnson City, NY. She was born on February 24, 1927 in Fly Creek, NY, daughter of the late Fred and Fannie (Martin) Lake. She grew up on the family farm in Fly Creek and graduated from Cooperstown High School with the Class of 1945.
In May of 1953, Margaret was married to Gerald Higgins in Cooperstown. In 1956, they moved to Sidney, which has been Margaret's home ever since. During her sons' youth, Margaret was an active volunteer with the school, and has been a longtime dedicated member of the Sidney United Methodist Church, where she was also an officer of the Dorcas Class. When her children left home, Margaret helped found the Nex-To-New Shop in Sidney, which was her pet project for over 20 years. In 2009, she received the Rotary Community Service Award for her dedication to the shop and her community. She enjoyed volunteering and keeping busy, and was a gifted organizer. She liked reading and doing crossword puzzles, always trying to keep her mind sharp.
Margaret was a good friend to many. She valued and nurtured her relationships, sustaining them over the years through personal letter writing to friends and family. This was a daily task when her son, and later a grandson, joined the military. Margaret was very patriotic and proud of their service. Family was important and Margaret spent a lot of time documenting family history and genealogy.
She enjoyed crocheting and was known to make mittens for her grandchildren, afghans for church rummage sales and most recently a blanket for her new great-grandbaby. She loved flowers and gardening, animals and the color pink.
Margaret's life was a testament of living well and giving back.
She will be missed by: two sons, Edward Higgins of Smyrna, GA and Paul and Nancy Higgins of Vestal; three grandchildren: Jill and Severyn Marsh of Vestal, Katherine Higgins of Vestal and Capt. Brian and Capt. Katie Higgins (USAF) of Tucson, AZ; great-granddaughter, Payton Grace Higgins and several nieces and nephews.
Margaret was predeceased by her husband Gerald in 2006 after 52 years of marriage. She was also predeceased by her three sisters: Bernice, Fannie Mae and Katheryn.
Friends are invited to call from 10:00am-12:00pm on Tuesday, September 26, 2017 at C.H. Landers Funeral Chapel, 21 Main St. Sidney, NY 13838. A funeral service to celebrate her life will begin at 12noon at the funeral chapel. Burial will be in the Fly Creek Valley Cemetery, Fly Creek, NY.
In lieu of flowers, memorial donations in Margaret's memory may be directed to the Delaware Valley Humane Society, 101 E. Main St. Sidney, NY 13838, or to the USO, Dept. WS, PO Box 96860 Washington, DC 20090-6860. Condolences may be shared with the family online at www.landersfh.com.
Arrangements are under the direction of C.H. Landers Funeral Chapel, Sidney.